Compass Collectables Coins Features
Compass Collectables Coins module has a great selection of specific fields to keep track of all the your collection details.
The fields are:
Acquired From
Category
Composition Outer
Date Acquired
Designer
Edge
Issue End Date
Mint Mark
Name/Series
Price Sold
Set Name
Weight
Catalogue Details
Comments
Country
Date Sold
Diameter mm
Grade
Issue Start Date
Mint Name
Number of Items in Set
Quantity
Status
Catalogue Value
Composition Inner
Currency
Denomination
Die Details
Grade Comments
Item Set Number
Mintage
Price Paid
Set Details
Thickness mm
Some Of The Features
Filtering & Searching
Columns in the list may be filtered (in the same way to using excel). This allows you to show only records that meet your criteria (eg only Coins from 1986), making it easy to find what you want.
Grouping lets you arrange your records in a folder like structure by common data. A common way to group Coins would be by Country then by Currency providing a folder like structure where you could open a Country then view all the Currencies for that Country; then you could open the Currency folder to view the records.
Layout changing/saving
Show or Hide fields, change their order in both the list and the form view. This layout may then be saved for future use.
Advanced Record Copying
Copy record allows you to duplicate a records data into a new record. It also allows you to setup a default copy rule so you only copy the information you want. Great for when you are adding many of the same type of records.
Drop Down Data Lists
Drop down data lists are user definable drop down lists for easy data insertion. Many fields use the same values repeatedly e.g. Country, Currency and Mint. By using a drop down data list you can add values that are used frequently to the list making it quicker and easier to add information.
Screen Shots
List View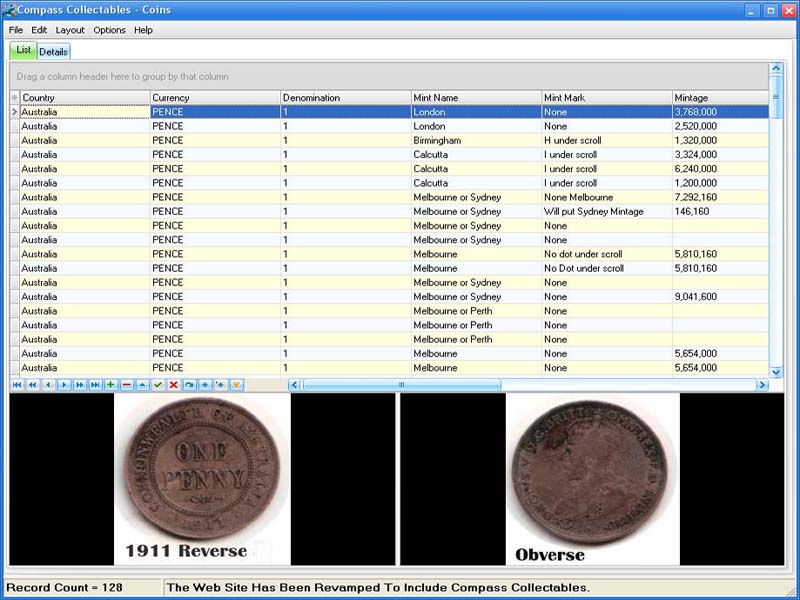 Form View